Andebit et beaqui corendit, ut quostes esciendion re dit ad et prae parion es quia quas alibus sam, omnim faciden ducipidiat arum autem nobis enis es voat
North Star Underground Railroad Museum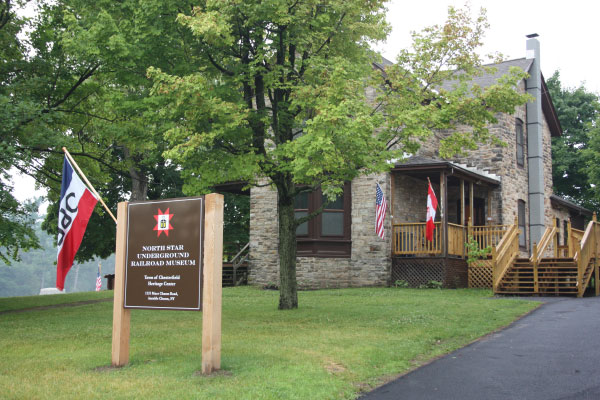 The Underground Railroad helped tens of thousands of slaves to freedom before the Civil War, and thousands came through the Lake Champlain Corridor to Canada. This museum brings to life that struggle for freedom as it played out in the Lake Champlain/Adirondack region. Season and Hours Open
Daily, 9 a.m. to 4 p.m., late May to Columbus Day. Special tours available year-round.
Don't Miss This When Visiting
The museum highlights stories of local people who helped escaping slaves get to freedom in Canada. Also, it focuses on stories of escaping slaves themselves. Don't miss the moving video story of former slave John Thomas, who decided to stay and became a successful farmer in the North Country.
Related Sites Or Experiences
The North Star Underground RR Museum is part of a network of organizations that highlight the region's role in the anti-slavery movement in northern New York before the Civil War. Other organizations include the John Brown Farm Heritage Site in Lake Placid, the Adirondack History Center Museum in Elizabethtown and the community-based John Brown Lives!
Identify And Describe The Management Organization
Don Papson is president of the North Country Underground Railroad Historical Association, which operates the museum.
Suggested Further Reading
North Country Underground Railroad Historial Association (www.northcountryundergroundrailroad.com)
National Geographic (www.nationalgeographic.com/railroad/)
Underground Railroad Conductor (www.undergroundrailroadconductor.com)
"Bound For Canaan," by Fergus M. Bordewich
"Chains," by Laurie Holse Anderson
"John Brown, Abolitionist," by David S. Reynolds
"John Brown," by W.E.B. DuBois
Additional Notes And Comments
The museum offers tours for groups year round, and can help design custom tours of Underground Railroad sites throughout the North Country.
Fees
no
ADA Accessible
yes
Tours Are Offered
yes
Site is Child-friendly
yes
Site is Pet-friendly
yes
Location
Latitude: 44.5253952 Longitude: -73.4580231 Elevation: 392 ft
Contact Information
North Country Underground RR Historical Association
518-834-5180
518-834-5180 (Fax)
1131 Mace Chasm Rd.
Ausable Chasm, NY 12911 US
[email protected]
Visit Website
Reader Interactions